The Squaxin Island Canoe Family participates in canoe journeys each year, traveling the waterways of the inland sea to visit with other tribes throughout the Pacific Northwest, including the west coast of Canada.
In 2002, for the first time in more than a century, members of the Tribe embarked upon a 200+ mile paddle through South Puget Sound and the Straits of Juan de Fuca to the Squamish Tribe in Vancouver, Canada.
In 2012, the Tribe hosted Paddle to Squaxin with over 100 canoes and 30,000 people participating!
The Tribe's resurgance of canoe journeys began in December, 1995 when the tribe obtained permission from the National Forest Service to remove two enormous cedar trees that had fallen in the Wynoochee Valley in 1993. Being more than 500 years old, the trees were alive before the arrival of Christopher Columbus.Before the trees were taken out of the forest, they were blessed and prayed over. Then they were cut into two 50-foot sections and one 30-foot section. Simpson Timber Company donated the use of its largest CAT and logging truck to haul the 22,000-pound logs. Then, when the truck was safely on its way to the Tribal Center, a new cedar tree was planted and blessed.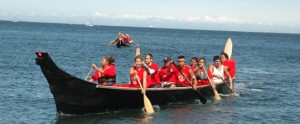 The cedar logs arrived at the Squaxin Island Tribal Center on March 30, 1996, and a blessing ceremony took place there on April 4, 1996.
Head Carver George Krise and a number of other tribal member volunteers were guided by the late Tulalip Tribal member Jerry Jones. Jerry, who was employed in the Tulalip Tribe Cultural Resources Department, built gill-netters for many years, assisted in the design of superstructure for the Seattle, Wenatchee and Spokane ferries, and completed a canoe project documented by KIRO News Channel 7 in the 1980's.
The canoe is now a centerpiece of Squaxin Island cultural activities and a highlight when visiting the Museum Library and Research Center (as long as the canoe is not out traveling) located near the Squaxin Island Tribal Center off Klah-Che-Min Drive.