The History of Tribal Journeys
The resurgence of the Canoe Nations has created an incoming tide of traditional teachings.
 "The Teachings of our Ancestors" is strong when our songs, stories, artwork, drumming and dancing are woven tightly together. The teachings of our ancestors are continually updated by succeeding generations and revised to reflect contemporary issues and problems. Perspective comes from the spirit and values that have been carried forward from past generations.
Tribal Journeys began in 1989, intending to coincide with the centennial celebration for Washington State. A total of nine canoes participated in the 'Paddle to Seattle', and in 1993, 23 canoes participated in the 'Paddle to Bella Bella.' Since 1993, 'Tribal Journeys' or 'The Paddle' has been held on an annual basis, with various tribes serving as the host tribe.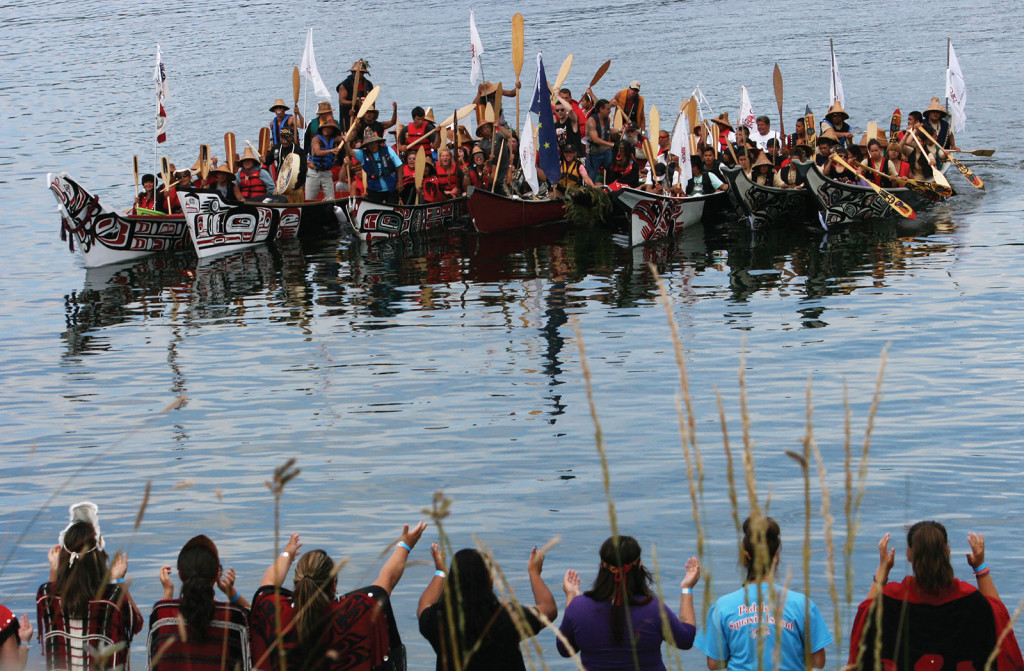 Past Tribal Journeys
1989 – Paddle to Seattle
1993 – Paddle to Bella Bella, B.C.
1994 – Youth Paddle (Olympia)
1995/1996 – Full Circle Youth Paddle (Puget Sound)
1997 – Paddle to La Push, WA
1998 – Paddle to Puyallup, WA
1999 – Paddle to Ahousaht, B.C.
2000 – Paddle to Songees, B.C. and Pendleton, OR
2001 – Paddle to Squamish, B.C.
2002 – Paddle to Quinault at Taholah
2003 – Paddle to Tulalip, WA
2004 – Paddle to Chemanius, B.C.
2005 – Paddle to Elwha
2006 – Paddle to Muckleshoot
2007 – Paddle to Lummi
2008 – Paddle to Cowichan
2009 – Paddle to Suquamish
2010 – Paddle to Makah
2011 – Paddle to Swinomish
2012 – Squaxin Island
2013 – Quinault
2014 – Bella Bella
2015 – Muckleshoot
Upcoming Hosts
2016 – Nisqually
Youth paddles
2014 – Suquamish
2015 – Muckleshoot